Modular connected health wearable
Vidavo designs and builds custom wearables to serve multiple operational settings & research goals. A selection of sensors in a robust and turnkey wearable package with IoT capabilities is customized, provides a variety of options regarding: sensors, connectivity, enclosure, data access layer. The custom wearable can be integrate to any platform on demand or data can be securely stored and accessed via the Vida24© connected care platform, the medical grade cloud solution, trusted by thousands of users for digital health implementation, both research & commercial.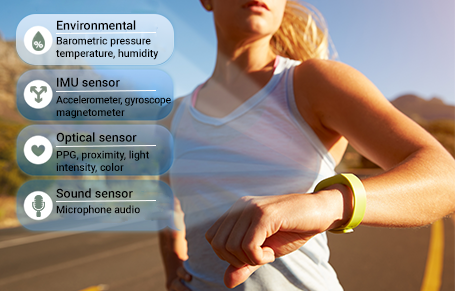 Use cases
Health wearable can be customized and adapted given to specific demands of a use case
VR serious game
Integrate hands and feet movements on VR enviroment in order to collect or avoid asthma relative objects respectively.
Vital signs monitor
Perform real time digital signal processing techniques on PPG signal in order to extract heart rate, blood oxygen saturation, respiratory rate, blood pressure and blood glucose
Allergic rhinitis gestures
Collect accelerometer and gyroscope raw data in order to train AI models and classify specific allergic rhinitis common gestures.
Voice Recognition
Make use of the on board microphone to perform audio analysis.
Contact our experienced team to obtain further information on how we can facilitate your trials, based on custom wearables.