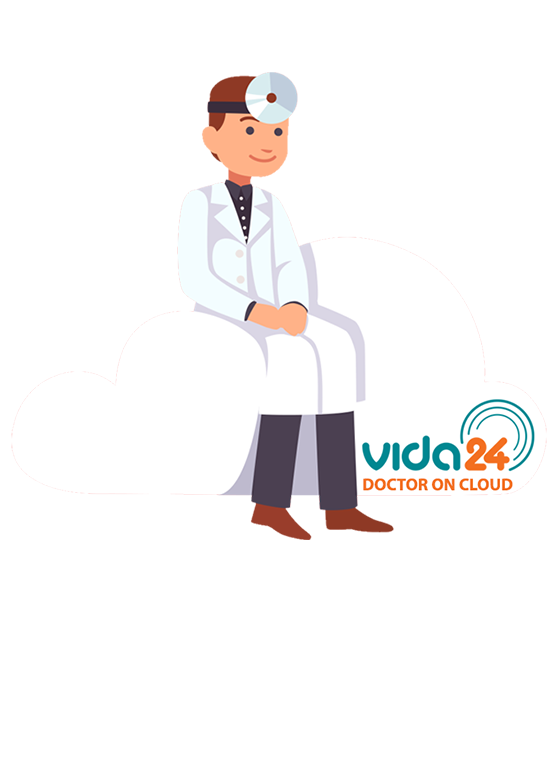 Stay connected
with your patients
Vida24 doctor on cloud is an interactive digital medical solution for doctors which enables real-time communication and collaboration while the patient is at home.
Second opinion | Telemedicine | Smart nutrition | Self – management | Digital therapeutics | eWellness | Behavior change – mindfulness | Mental health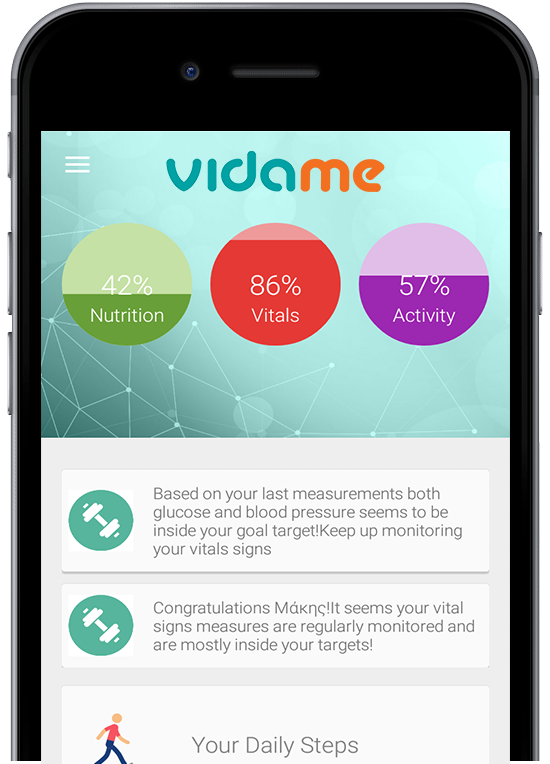 Motivating Behaviour Change
and building well-being
Vidame is the wellness module of Vida24. VidaMe integrates dietary, physical activity guidelines, risk assessments tools and is fully customized for your needs
Services
We design, develop, provide technological tailor-made connected health, wellness and healthy ageing solutions
Research
Cross-discipline design and development of cutting edge digital health solutions including project management and funding.
Software development
Tailor-made and high-quality software development of mobile apps and web solutions.
Custom wearables
Α modular connected health wearable with IoT capabilities including a variety of health parameters and human body sensors.
Vida24
Modular connected care suite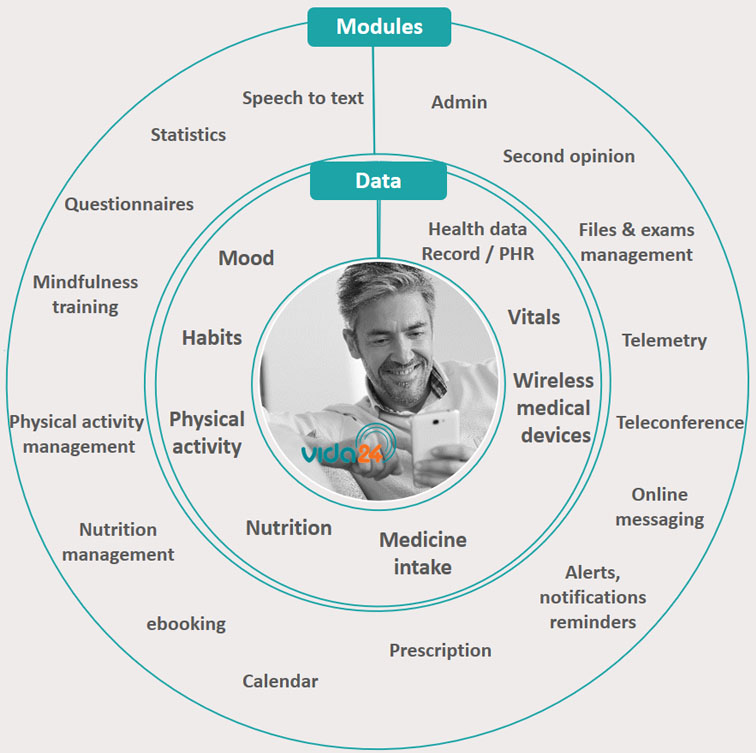 Vida24™ is a connected care modular platform, trusted by multiple users across Europe.

The system offers a bouquet of ehealth & mhealth modules, supporting chronic disease management, wellness, nutrition and activity coaching, doctor on demand, mental health, health assessment and more.

The Vida24™ customizable app synchs multi-source data to the Vida24™ cloud platform offering an end-to-end solution that can also bridge to any EHR/HIS system.


Vida24© is CE0653 Class IIa certified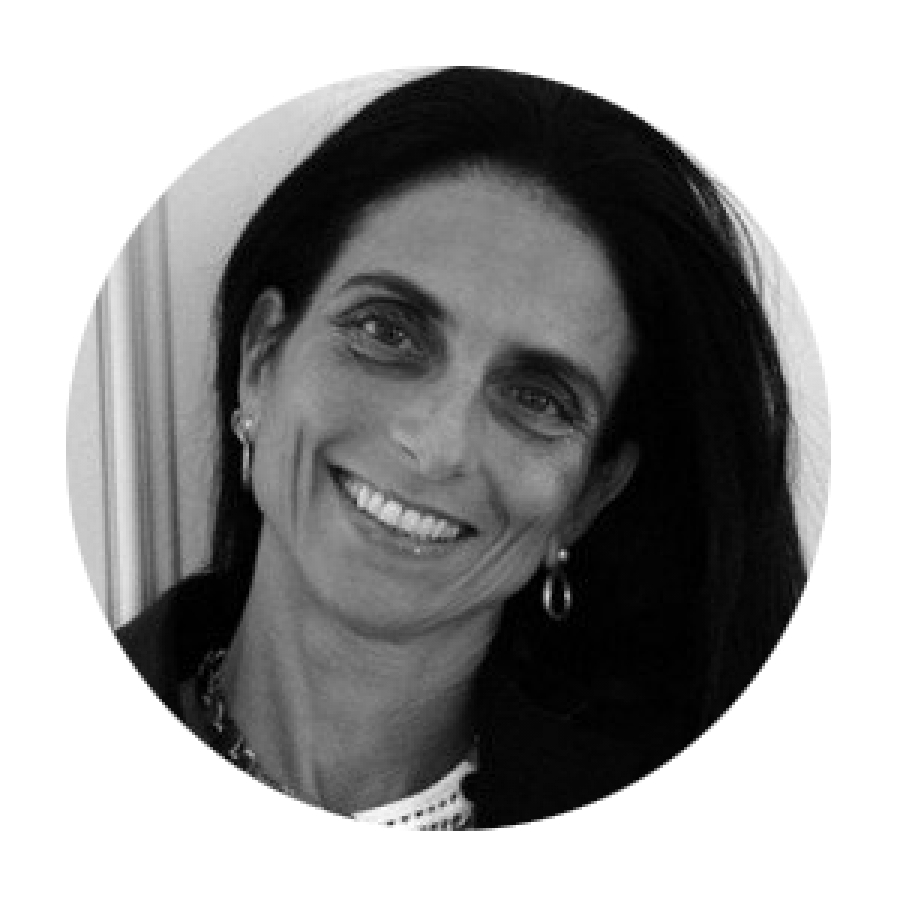 I loved visiting Vidavo and meeting your team. You should keep at it, now that you've gotten it to this point. There is a big value-add in what you're doing.
Marina Hatsopoulos, Entrepreneur and Angel investor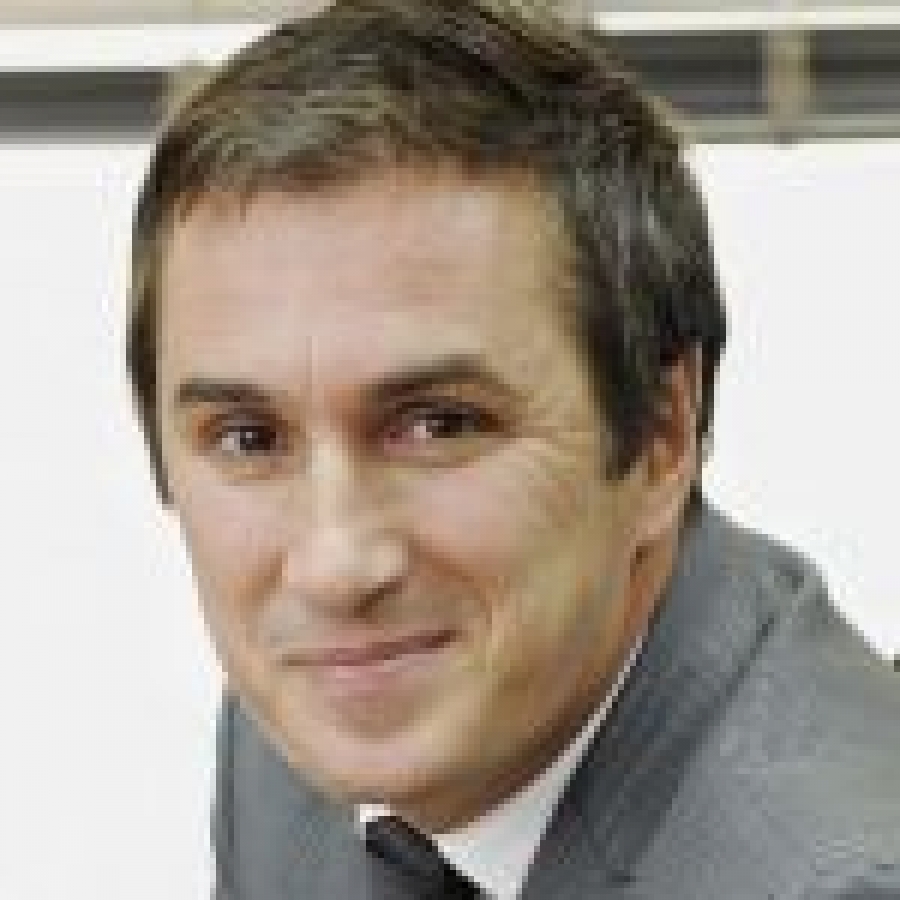 Our partnership with Vidavo for the service and equipment provided made Telemedicine Project in Albania a success. The project uses the best of technology to help data transfer from the testing in a village to the central hospital in Tirana. There are estimated almost 12,000 beneficiaries per year, for a total of 60,000 tests completed in more than 317 very remote villages, among whom 41-42% are identified with health problems in risk each year.
Albi Greva, Executive Director, Vodafone Albania Foundation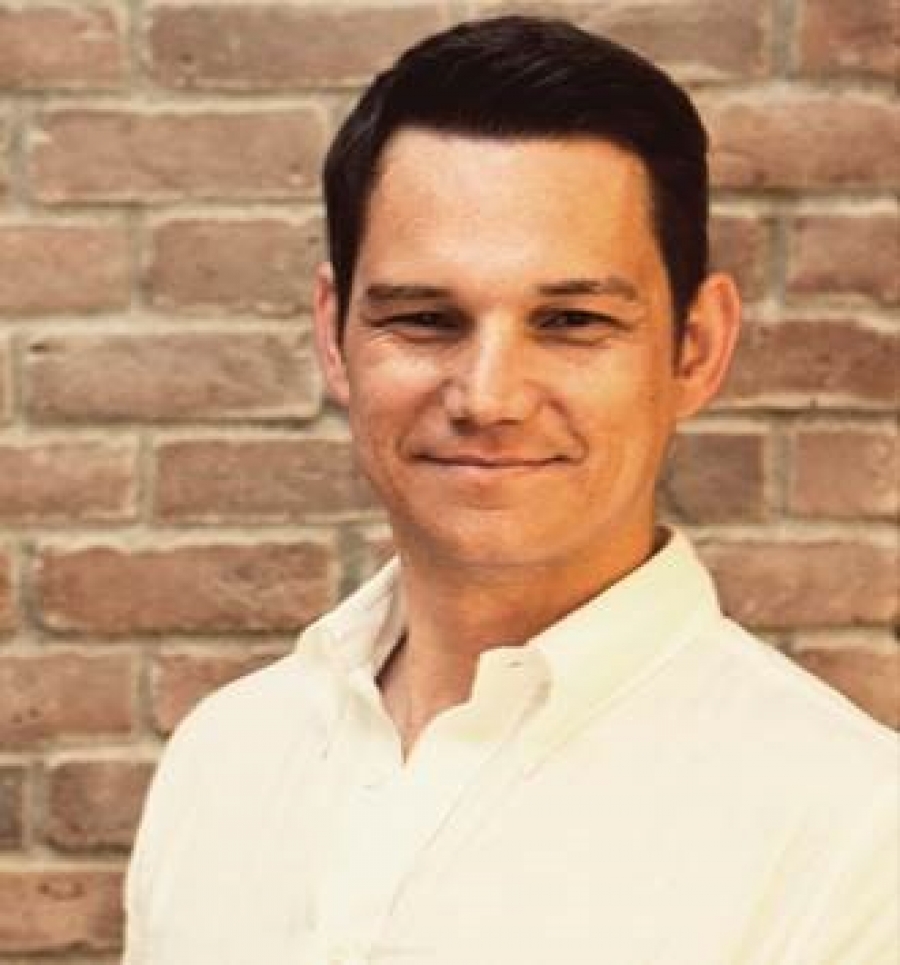 Vidavo's personalized health solution is the synergy of technology with the humans in order to create a better future and live a well life. The hospitality industry has a chance to re-create a product that will help us to develop the new tourism industry.
Stavros G. Mavridis, Wellbeing director Co Founder EFZIN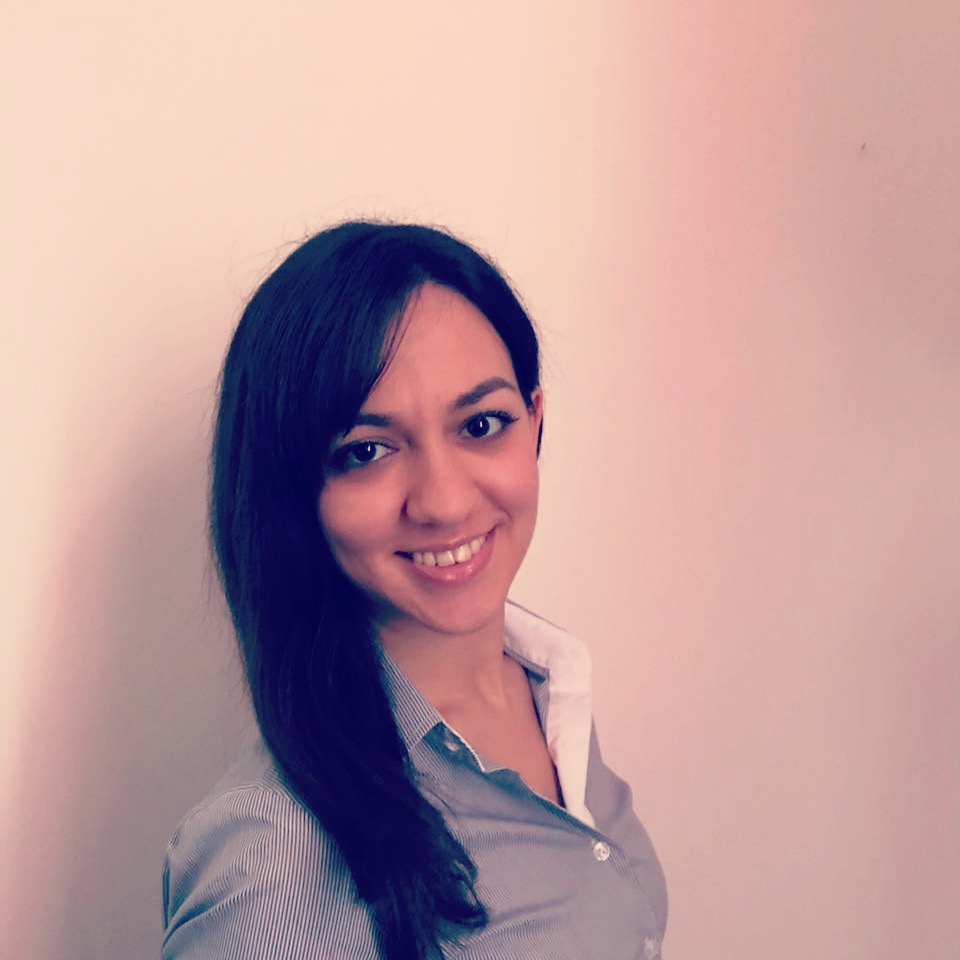 The online training for users of the SEFAC App, was very clear, concise and helpful for the ISRAA team. We believe that the simplicity and usability of the app is appropriate for the target groups of seniors in Italy.
Stefania Macchione, Clinical Psychologist, ISRAA Institute Italy
Η φορητότητα του εξοπλισμού του προγράμματος τηλεϊατρικής της vodafone  διευκολυνει την πραγματοποίηση των εξωστρεφών δράσεων του Κέντρου Υγείας Μουζακίου. Τόσο το πρόγραμμα ολοκληρωμένης φροντίδας ηλικιωμένων με δυσχέρεια μετακίνησης της περιοχής του Μουζακιου όσο και οι αποστολές της διεπιστημονικής ομάδας σε απομακρυσμένες περιοχές της ορεινής Αργιθέας χρησιμοποιούν το κιτ της vodafone.
Βασίλης Γκιζλής, Γενικός Ιατρός Π.Ι. Μαυρομματίου, Κ.Υ. Μουζακίου Καρδίτσας
Η συνεχής βελτίωση της ποιότητας των υπηρεσιών υγείας αντικατοπτρίζει ένα σύνολο δραστηριοτήτων που σχετίζονται  μεταξύ άλλων με τον σχεδιασμό των υπηρεσιών, την τεκμηριωμένη ιατρονοσηλευτική φροντίδα, την εφαρμογή καλύτερων πρακτικών και τη χρήση νέων τεχνολογιών. Η Vodafone με τον εξοπλισμό και τη συνεχή υποστήριξη που παρέχει στο έργο μας συμβάλλει καθημερινά  στην παροχή ολοένα και ποιοτικότερης φροντίδας υγείας.
Ροκά Βιολέτα Γενικός Ιατρός Π.Ι. Οιχαλίας , Κ.Υ. Φαρκαδόνας Τρικάλων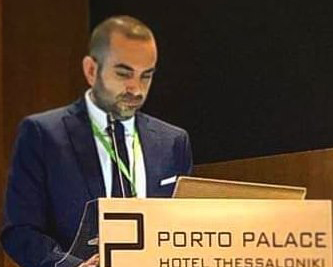 Μέσω του προγράμματος Τηλεϊατρικής του Ιδρύματος Vodafone και της

VIDAVO

, η Ν.Μ Μολάων καταφέρνει και προσφέρει υγειονομική κάλυψη, βασικό πρωτοβάθμιο προληπτικό έλεγχο και φροντίδα, σε απομακρυσμένες και μη περιοχές, όπου η παρουσία εξειδικευμένου ιατρού δεν είναι εφικτή!
Κωνσταντίνος Κορωνιός - Διοικητής στο Γ.Νοσοκομείο Λακωνίας - Ν.Μ Μολάων
LATEST
POSTS

FROM OUR BLOG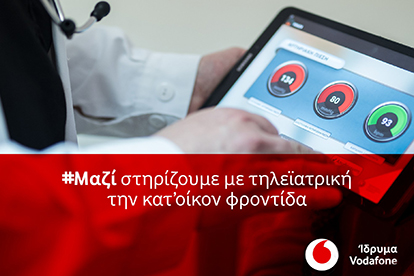 H
VIDAVO
 περήφανα στην κορυφή, στηρίζει τους πρωτοπόρους και δημιουργούν μαζί ένα μέλλον καλύτερο για όλους. Το
Πρόγραμμα Τηλεϊατρικής Vodafone
, στηρίζει τους γενικούς και αγροτικούς ιατρούς, ενώ προάγει την προληπτική ιατρική. Συμβάλλει στην πρόληψη ασθενειών μέσα από την έγκαιρη διάγνωσή τους και
Contact Us
Thessaloniki HQ
10th km Thessalonikis - N. Moudanion, Balkan Center, Building D, 57001
Tel: +30 2310474762
e:vidavo@vidavo.eu
Ioannina
Science and Technology Park of Epirus, 45500 
Tel: +30 2310 474762